Spread financial intelligence
Payment processors must comply with the applicable KYC and AML regulations. Especially when onboarding new merchants and monitoring their transactions. Recently, we reported that the high-risk payment processor Phoenix Payments Ltd d/b/a Paytah (www.paytah.com) has been helping large broker scams like RoyalsFX, LincolnFX, or CodeFX to defraud consumers and retail investors with their payment services. Paytah is to be held liable for this but has so far refused to accept its responsibility for intentionally or grossly negligently supporting the scams and refuses to provide any assistance to the victims.
The EFRI Complaint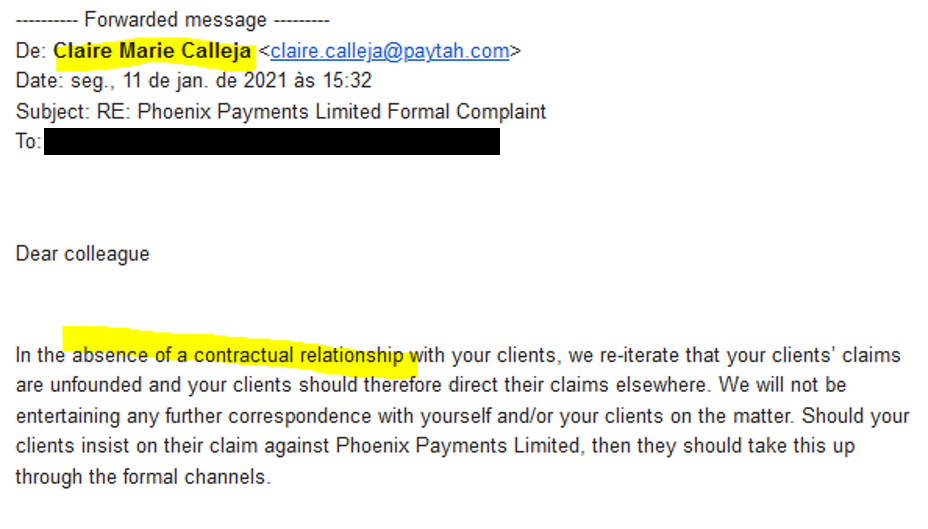 The European Fund Recovery Initiative (EFRI) represents victims of RoyalsFX, LincolnFX, CodeFX, and other broker scams. They made their payments to the scams and consequently lost their money via PayTah. Via a lawyer in Malta, EFRI has sent the complaint to the company's directors, namely Marco Lavanna, Keith Farrugia, and Francesc Xavier Alabart Lopez.
In the complaint, EFRI points out Paytah's legal responsibility for facilitating the scams as a co-conspirator and demands compensation for investors' resulting damage.
The cheeky answer
So far, EFRI has only received a reply from Paytah's Dr. Claire Calleja Zammit (LinkedIn profiler), who claims to be the Compliance and Risk Officer Designate. She has rejected the claims of the victims because of a non-existing legal relationship.
In the absence of a contractual relationship with your clients, we re-iterate that your clients' claims are unfounded and your clients should therefore direct their claims elsewhere.

PayTah statement
EFRI's lawyer in Malta has forwarded PayTah's short note to high officials within the Malta Financial Services Authority (MFSA), including Edward Grech and Michelle Mizzi Buontempo. However, it is not yet known whether these officials acted on the reports. Unfortunately, MFSA has often been criticized for being strong with the weak and weak with the strong. Malta is still under the limelight of Moneyval, who are considering grey-listing the island.
Phoenix Payments Ltd is an MFSA-licensed payment institution (see MFSA page). The Paytah offices are less than 500 meters away from the MFSA's headquarters. Victims believe that a visit by the MFSA and collection of evidence should take place. The least Paytah could have done would have been to admit that his customers were scammers and offer his assistance in clearing them up. As a payment processor for the scams, Paytah has all the scammers' names and data to enable EFRI to file claims for the defrauded investors. Now EFRI has to go through the regulator and courts.
The MFSA
Just recently, MFSA CEO Joe Cuschieri resigned following revelations by the media that he was allegedly involved in the conspiracy behind the murder of a journalist, Daphne Caruana Galizia, in Malta more than three years ago. Maltese media reported that Cuschieri was temporarily replaced by Dr. Christopher Buttigieg, who enjoyed many promotions under the helm of Cuschieri. Buttigieg was the main promoter of Malta as a blockchain island, a project which has now been shelved by the Maltese Government. This initiative has been described by many in the international arena as a complete failure.
FinTelegram and EFRI will continue to cover Paytah. Stay tuned and share information.